Ashley Mendelsohn is an architecture curator, educator, and multidisciplinary designer and strategist focused on engaging and strengthening communities by demystifying the barriers to access and understanding.




Mendelsohn brings strategic organizational and storytelling expertise to audience building,
space planning and content development.












Mendelsohn moderating Responding to Wright: Architects Design for the Guggenheim (2019) a program celebrating the 60th Anniversary of the Guggenheim Museum building, featuring a conversation between architects Meejin Yoon, Lise Anne Couture, and Hani Rashid. Photo: Ed Marshall © Solomon R. Guggenheim Foundation, New York.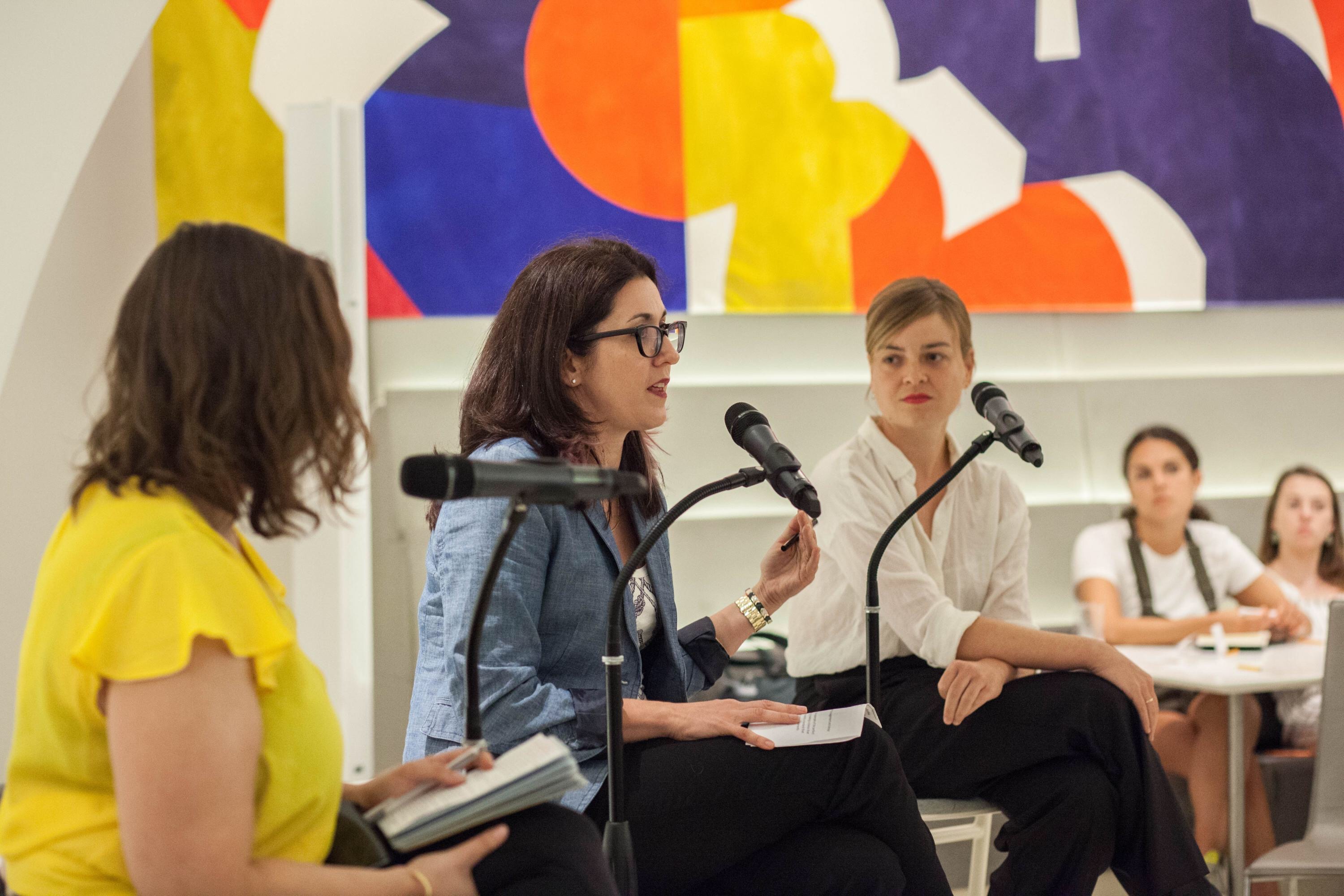 Mendelsohn is an Independent Architecture Curator and Educator and a Strategist at PinPoint Collective. She previously held positions at the Solomon R. Guggenheim Museum in Curatorial, Exhibition Design and Visitor Experience. During her tenure, she represented the museum during the final stages of the Frank Lloyd Wright building's UNESCO World Heritage designation process and played a pivotal creative role as the featured voice in the 99% Invisible-produced building audio guide

, which has garnered more than 1 million downloads to date. She has supported the organization and design of various exhibitions, workshops, and symposia, including

Guggenheim Helsinki Now

(2015),

Åzone Futures Market

(2015),

Architecture Effects

(2018) at the Guggenheim Museum Bilbao, and

Countryside, The Future

(2020).

Mendelsohn holds a master's degree in design studies from Harvard University's Graduate School of Design and a bachelor of architecture from Cornell University, and has taught at both institutions. At Harvard, she founded the GSD Kirkland Gallery, which continues to serve as the only student-run gallery on campus. Mendelsohn currently sits on the advisory boards of

Madame Architect

, a platform for celebrating women in architecture and

Impact Wrkshp

, an organization that builds community through design advocacy.
BOARDS AND JURIES
• Art Omi: Architecture Residency, Jury Member 2021
• Future of Ontario Place Project, A Call for Counter-Proposals, Jury Member 2020-21
• Van Alen Institute, Flatiron Public Plaza Holiday Installation, Nominator 2020
• Impact Wrkshp, Advisory Board Member 2020
• Madame Architect, Advisory Board Member 2019 - present

AWARDS
• World Wide Storefront Competition Winner 2014
• Dimitris Pikionis Award, for outstanding performance in the Master in Design Studies Program May 2014
• Harvard Graduate School of Design Urban Project Prize May 2014
• Paul M. Heffernan International Travel Fund Jan 2014
• Harvard Bok Center Certificate Of Teaching Excellence Spring 2013 + Fall 2013
• Harvard Global Health Institute International Research Fellowship Summer 2013